By Anita Diamant.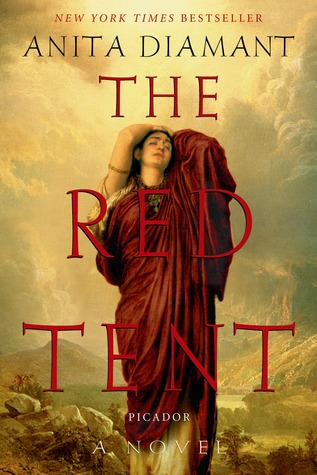 I'm publishing this review here, not first on my new  book review blog, Entertaining Angels Bookshelf, because The Red Tent is appropriate to the theme of this blog.
There are two groups of people who might be put off The Red Tent by its nature or its subject matter. People who are not Christian might not want to read it because it is based around characters in The Bible. It would be a shame to miss out on this story for this reason. God and gods are in the book but only as they relate to the life of the time.
When I first heard about this book, and later read the review extracts on it's back cover from magazines that include Elle and She, I assumed it was a woman' s book. It probably does appeal more to women, however it is worth male readers persevering. It's a good story with sufficient saucy bits, and bloody fights to keep them happy too.
The story is a fictional telling of the life one of the bible's minor female characters. Dinah was the youngest child of Jacob's clan born to his first wife Leah. Jacob had thirteen children by his four wives and Dinah was not only the only female child, she was also was the youngest.
Anita Diamant relates her tale through the eyes of the book's heroine, Dinah. We hear from Dinah all about her family, Jacob, her four mothers, for Dinah thought of all Jacob's wives as mothers, and to a lesser extent, all her brothers. We are given her life's story and especially her relationship with the youngest of the boys, Joseph.
Dinah led a happy, well protected life with her family until she becomes a teenager. She had never been separated from her kin until her brothers murder many of the men in the town of Shechem, near where they are living with their flocks. Dinah herself is betrayed and thought to have been slain in the massacre, but manages, with help, to escape to Egypt.
In Egypt she is taken in by a wealthy family, though she is, to all intents and purposes, alone in a foreign land. This is really the start of her story, where she becomes a grown woman and learns to live a new life becoming one of the most sought after midwives.
Diamant gives us vivid characters and a warmth to her storytelling. For all that befalls Dinah in Diamant's tale, The Red Tent is ultimately a book about hope, and never giving up.
"Of all life's pleasures, only love owes no debt to death"